Get started with Twitter
If your business isn't active on Twitter already, then you should know that Twitter is used to capture conversations about different topics around he world. In Can you use Facebook and Twitter for Social Media Marketing?, I stated that: as a business, you can use Twitter to post details on a new product or service, helpful tips for users which can increase retention. Moreover, gaining followers on Twitter should be your business' goal; you can build on existing customer relationships, create new leads and develop a visible presence by building your Twitter followers.
Source: Seoclerks
Does your business use Social Listening?, was my previous post where I mentioned that it is very important for businesses to post frequently on their social sites.  Few interactions on Twitter a day, may add up to valuable moments for your brand. According to Batesole, "twitter claims that people are 72% more likelyto make a future purchase from a business after they follow or interact with them on Twitter" (2017). 
It is advised that you understand the terminologies used in the Twitter world. Twitter terminologies include:
Source: Digital Charlotte
In Can you use Facebook and Twitter for Social Media Marketing?, I highlighted the key point you need to consider when creating or changing your username.
How to sign up for a Twitter account:
Source: sakaiRTMS
Touring Twitter's interface:
Source: Techboomers
Create an Effective Profile
Your business' name, bio, header image and profile picture should all be in sync to tell the story of your brand. You should use your profile on Twitter to directly target your desired demographic. On Pepsico's profile you immediately notice that their profile picture and header image contains visuals that relate to the brand which descries the business. Also, if you take a look at their bio, it tells you what to expect from their business, "News, innovation, global inspiration & more from @PepsiCo".
Build an experience that would be valuable to your audience, on your Twitter profile. Construct a bio that your users are familiar with and can connect with ; use languages and images they'll resonate with to feel comfortable.
How to add a profile picture and header to your Twitter account:
Source: Ian Lamont
With the header photo, this is where you will display your brand. According to Batesole,  it's where your new followers and visitors will get an immediate sense of who your company is (2017). It is also recommended that you upload header image of 1500 by 500 pixels. When using a header photo or profile picture, make sure that you are using large, rich and on-brand images.
Source: Hot Pepper Communications
A profile picture provides an immediate brand visibility as it tell users who and what your business is about. Most of the times, users will recognize your profile picture before they realize your username.
Your bio is essentially what you will use to describe your brand. Your Twitter bio limits you to 160 characters. Moreover, think of you bio as an elevator pitch. In your bio you can also include hashtags, links and other usernames or handles. If you want to add a link inn your bio, ensure that you are using a trackable link, such as a URL with Google tracking appended, in order to view how many clicks are arriving from your Twitter bio. One cool thing about Twitter bio, is that Twitter uses your bio as the description for the search engine listing.  In the bio, you also have the flexibility to add a location.
How to customize your profile design:
Source: Brand Design
In Did you know that you can use Facebook for Business?, I mentioned how to pin a post on Facebook, and it is basically the same for Twitter. How to pin a tweet on Twitter:
Source: Paul Wilson
Connect
According to Batesole, "as a business, it's better to put things through the perspectives of your audience. You might not want your business to be aligned with a political agenda, a particular celebrity, or even other brands" (2017). It's important to get involved with Twitter's ecosystem by following users. Ensure that you are also following brands that you want to interact with as their tweets will appear on your feed once you follow them. With reference to Can you use Facebook and Twitter for Social Media Marketing?, I made mention that you do not have to follow back all your followers. How to connect with existing contacts:
Source: Fuzedtraining
Tweet
Ask  yourself the question, how do you want your brand to be thought of? As a business, you need to clearly identify who you are, how you think, and the whole atmosphere around your brand. If your business is sophisticated, then you will have to use the language and imagery to support this personality. Users  respond well to conversational tweets that are welcoming, so don't practice too much self promotion as it will reduce the effectiveness of your twitter efforts. With regards to your tone, you should use it for specific situations and use your business' voice to maintain stability for the broad appeal.
Say you have encountered a crisis with your business, the first people that will be affected by this is your customers. So, Batesole said, "hit Twitter the second bad news breaks with a clear, authentic response and your audience will respect your for it. In a nutshell, what you say, how you say it,and how often you respond, all have a tremendous impact on the success of your Twitter marketing. The basic key is to just be authentic". 
Your business' Twitter objective is highly quantitative and the revenue you produce can be measured directly. You can have multiple objectives but, highlight the primary one and develop your strategy around it. Moreover, once you have decided what your marketing objectives for Twitter are, you should then conclude if you will be measuring the results by the quality or quantity.
How to add videos and photos to a tweet:
Source: The Scientist Videographer
Source: SynNeo
Another great way to share rich media is through GIFs. You can post GIFs in your tweet instead of videos and photos, if you like. You can add GIFs based on the selected options Twitter provides you, or you can use the website from this video:
Source: In 30 Minutes
As a business, you would want to look beyond just your retweets, followers and likes. So, with the use of Twitter Analytics, you can see the impressions of each tweet, the engagement rate, its overall reach and also the amount of clicks any embedded media or URLs received. How to use Twitter analytics:
Source: Cat Crawford
Generate Leads
In order to be successful on Twitter, you need to make a list of keywords in relation to your business, products and also your competitors. Generate another list of sentences, phrases and keywords that will describe you. Retweets are so useful as it will help you find a strategy that enables you to increase your impact. Getting an endorsement is like getting a retweet; users in your network can relate with your tweets and when they share it, their audience can relate to it as well. Retweets is also a great way to attract more exposure to your page and business.
Integrate
Twitter has the feature of allowing embedded buttons which enables users to immediately share links, hashtags, follow users and mention an account directly from any page to your website. Twitter has provided users with four button options such as: Share a link, follow, hashtag and mention.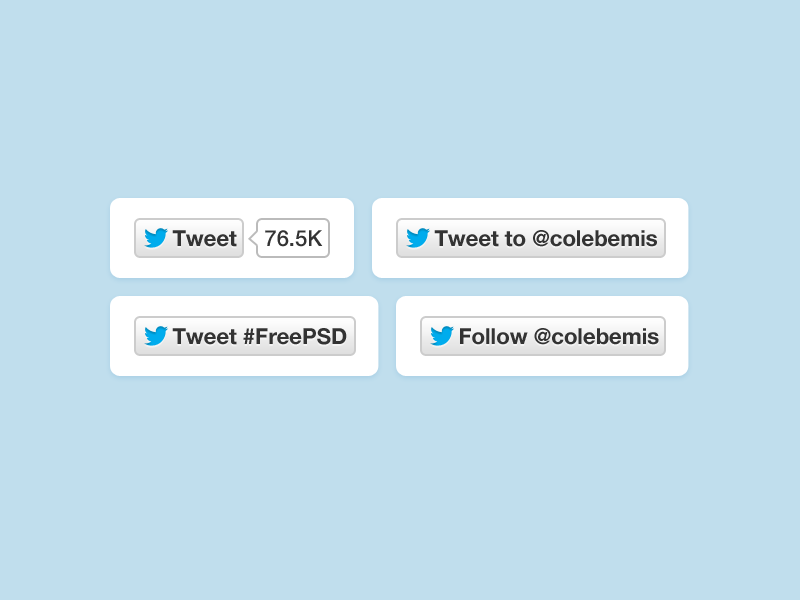 Source: Cole Bemis
Embedding your Twitter feed to your website, is a great feature to utilize when writing a blog or using tweets as a reference. You also have the opportunity to share some of your valuable tweets to your customers. How to embed a Twitter widget to your website:
Source: Anson Alexander
Twitter Cards is a useful tool as it will allow you to extend your message and a;so more media to a tweet. How to add Twitter cards to your website:
Source: WordPress Tutorials
Advertise
According to Batesole,  social media advertising is fueled by the ability to not only get in front of a highly relevant audience but to also encourage them to share and spread your message organically (2017). When developing a campaign for your audience, ensure that it is motivating hem to follow you. How to launch a Twitter campaign:
Source: Gary Hyman
How to promote a Tweet on Twitter:
Source: You Brand, Inc.
You should know that each advertisement has its own set of metrics and Twitter tracks the number of attention your campaign has gotten. You can use Twitter's dashboard to view metrics currently and after you have launched your campaigns. In order to launch your future ads for better success, measure your current ad results against your marketing goals and make the necessary adjustments.
Manage your Daily Efforts
Remember in Marketing, consistency is key! You have to make sure that you are keeping an active presence on Twitter to interact with your audience. You can also set up email notifications to inform you when someone has interacted with your tweet whether retweet, like or comment. I personally have used TweetDeck in the past and I also recommend you to use it as a third party tool. How to use TweetDeck:
Source: Brandon Northwick
Don't get me wrong but, there are more third party tools you can use on the marketplace. Explore your options and use the better tool for you.
My Future
This was a good assignment but, unfortunately, I do not think that I would focus my marketing goals on Twitter because of the character limit and the uniqueness of the platform. However, if your audience demographic is actively on Twitter, then it is best to increase your marketing efforts here. Twitter is always a good platform to use when responding and interacting with your customers, since it's real time and you get to participate in the Twitter ecosystem. I can conclude that Facebook offers more opportunity for a small business than Twitter because of the flexibility it provides for startups than Twitter.
Reference
Batesole, B. (2017, April 18). Twitter for business. Retrieved from, https://www.lynda.com/Twitter-tutorials/Measure-advertising-impact/480768/495385-4.html